---
---
KINKYSEXUAL IN CABO #7 - Oct 21 - 28, 2018!
The first 6 Kinkysexual in CABO luxury vacations all sold out!
Plan ahead to reserve your Master Suite for 2018!
Current travel plans:
Jan 17 - 19
Nashville
Jan 19 - 20
New Orleans
Jan 20 - 22
Houston
HAPPY BIRTHDAY TO ME!
Jan 22 - ??
Austin
Jan 25 - 26
Lubbock
Jan 26 - 30
Albuquerque/Santa Fe
Jan 30 - Feb 1
Denver
Feb 1 - 2
Kansas City City
Feb 2 - 3
St. Louis
Feb 3 - 6
Chicago
Feb 6 - 7
Detroit
Feb 7 - 8
Cleveland
Feb 8 - 9
Buffalo/Niagara
Feb 9 - 10
Albany
Feb 10 - 14
Boston
Feb 14 - 20
NYC
Feb 20 - 22
Philadelphia
Feb 22 - 25
Baltimore
Feb 25 - 28
Washington DC
Feb 28 - Mar 1
Knoxville
Mar 1 - 3
Nashville
Mar 3 - 4
Memphis
Mar 4 - 7
New Orleans
Soon to be announced:
New York City
Boston
Philadelphia
Baltimore
Washington DC
Buffalo
Cleveland
Detroit
Wherever you may be in the US, please check back here to see when I will be in your city.
To receive travel updates automatically via email please join my fully moderated (no junk or spam) Yahoo group.

I am looking forward to seeing my lovers and making new ones.
My rates, contact info and Booking Form appear in the right hand column of this page. ~~~~>
Booking TO-DO Checklist!!!
• Familiarize yourself with my rates, requirements, and preferences.
• Complete my easy and discreet booking form.
• Call me on the phone.
Other methods of initial contact including P411 PMs, TER mail and text messaging are unlikely to receive a reply.

If you are a Date-Check, RS2K or P411 member, the booking form is still the best way to set an appointment with me. It's not required though. You may send an appointment request directly through the verification site.
PLAY BY PLAY of
The Adventures of Danielle Squirts!
2016 proves it just keeps getting better and better...
2017 is continuing that trend already! I got an awesome surprise for NYE - an artist pass to Lights All Night! It was incredible. I love VIP bathrooms and never waiting in a line! My pass let me go backstage or into the artists lounge too! The new year comes and the travel bug bit again! I headed off for Dallas, and then Kansas City where i had a great time with a pervy lover whom I adore, then Louisville which always treats me well...ever since i discovered it for the first time earlier this year! I love Louisville! Next was an amazing week in Chicago with my transgirlfriend, Sierra Chase! We rocked a kinky party...like there would have been no party without us, and we also entertained at home...you should be so lucky. We had such a great time! Next i headed out of Chicago and see my pervy lover in KC again, then flew home to Austin to pick up friends to take to see Atmozfears in Dallas for my Birthday! Sierra Chase got the separation anxiety i am so well known to cause after i had only been gone a day and flew to Dallas to go to the show with me too! Happy Birthday to me! Home to Austin again i enjoyed being able to be naked outside in Feb! I miss the east coast so much, but i am just not able to handle that cold anymore. I will come with the Spring i promise! Until then - SOUTHWEST! First an overnight with my favorite Texan in Lubbock, then on to Albuquerque to see my beautiful girlfriend of 14 years, Katherine Butler, now retired. Next was a stop in Santa Fe, where I always indulge in a couple of my favorite secluded and beautiful parks and do naughty things! Scottsdale/Phoenix, beautiful in March, gave me several days of sunshine and love, and then a spa day at a favorite resort in Tucson. I completed the circle with stops in El Paso and Midland before returning home to my wolf pack in Austin! It was a super brief stay though. My blonde bombshell girlfriend had a ride bail on her and needed me to get her to Florida for a gig with the WWE, so on four hours notice, we headed out, stopping in New Orleans for a day and then Orlando, where i dropped her off and took a super quick trip up through Charleston, Charlotte, DC and Baltimore. I got to stay with my powerhouse FemDom friend, Max Rulz - who allows me to host in her amazing home - there is a full dungeon there, Baltimore peeps...come check it out. Then i had to rush back to Orlando and get my girl back to Austin for another gig...stopping once again in New Orleans. My car decided that was all a bit much, and so it stayed in New Orleans for a while, and we got home to Austin in a rental car. Home for a week and then back to New Orleans to return the rental car, only to swap it for another because the repair was still not complete. Back to Austin again! My transgirlfriend, Sierra Chase, called from Chicago and wanted me to come visit...she has a way of inspiring me that i don't really know how to say no too, i must admit. So i packed up again and headed north. First stop, my hometown, Kansas City - always a good time! St. Louis was next, and then Chicago! Sierra has a lovely condo in Lake View where she allows me to host. It is not handicap accessible but unless that is an issue, it is a great option. Usually easy and free street parking during the day. I took a few days to visit Louisville and Indianapolis and then headed back to Chicago for another wild, orgy filled weekend with Sierra. CHICAGO, Sierra Chase really knows how to have a good time, and she is also one of the most fascinating and intelligent people i have ever known. Even if you are not into transgirls you should still do a double with us just to meet her and have her watch! I LOVE TO BE WATCHED! Next, i bounced up through Milwaukee and Madison, then back to Chicago, then homebound i headed to Indianapolis first, then Louisville, Nashville, Memphis and New Orleans where i returned the rental and had a great time with a stranger i met on the street! I stopped in Houston and then was home in Austin just long enough to catch my breath before heading north again. Dallas, OKC, KC, and St. Louis all treated me well, and then Sierra and i rocked Chicago once more. My car decided to break yet once again, and so, in a rental, i headed to the East Coast (finally, i know!) I ducked down through Indianapolis and Louisville, then Pittsburgh to see a suitor i had not seen in years. So much fun to reconnect. Next was a week in NYC with my best friend, plus a quick trip up to Great Barrington to see me ATF. After that i visited Baltimore and DC and had a great time reconnecting with everyone after being away so long...plus met a new suitor who turned out to be fascinating and a ton of fun, and i cannot wait to see him again! Then i headed back to NYC for a day, only to go the other direction - first through New Haven to see a long time lover and then to Boston to meet up with friends visiting from Seattle. After Boston i headed back to NYC for a few more days, then bounced back through Pittsburgh, Cleveland, Detroit and once again, Chicago! My girlfriend Sierra had taken a trip to Santa Fe and decided to move there! So instead of flying home to Chicago she asked me to drive her car down to Santa Fe. She drives a brand new Genesis named Betty. Betty is super smart and i had a great time driving her. We hit St. Louis, Kansas City and OKC on our way down and then scooped up Sierra in Santa Fe and brought her home to Austin where we moved me from one plot of land to a much bigger one a bit farther out in the country and then the moment the move was done, we headed north again! Sierra was on a time crunch to get back to Chicago and get packed up for the move to Santa Fe, so we drove it straight through. We got all the packing done, and i took a quick trip up to Madison and Milwaukee, and then we headed south, separately. She headed to Santa Fe, and i headed through Indianapolis, Louisville, Nashville, Memphis and Dallas. I was supposed to go through New Orleans and Houston but thanks to the hurricane damage i was forced to change my plans...i will come see you soon though! I hope you are all doing well with all the flooding! It was nice to be home for a bit, and enjoy the new property, but as always, i don't hold still well at all! I was missing Sierra almost immediately, so i spent a night in Lubbock with a fantastic suitor and then headed back to Santa Fe to see Sierra. It was a quick stay because my smokin hot blonde bombshell of a girlfriend in Houston booked a gig to DJ for a beach clean up in Corpus, so i headed back for that. AMAZING! I spent another couple weeks at home, and then my friend Olivia, who never gets to travel anywhere, convinced me to take her on a very quick trip (so she would not miss any work) through a few select cities she had always wanted to visit. First Memphis, then Nashville, and Knoxville, and then down to New Orleans and back to Austin. We had a fantastic time, even though it was fast...but it was so fast that i missed a few folks, so i planned a slightly less hectic trip so i could come around again...but i wanted to see Sierra for Thanksgiving, so my route was pretty convoluted. I went to Santa Fe, then up to Denver, over to Kansas City, then St. Louis, then Indianapolis and Louisville, and finally back down to Nashville, Knoxville, and Memphis once again, and now i am back in New Orleans! Get in touch so we can make plans. PLEASE BOOK AHEAD. It is ALWAYS easier for me to plan around you. If we make plans, I WILL BE THERE. I am always and forever exactly where i have confirmed plans to be, and although i will always do my best to bring us together, same day and short notice requests rarely work out. If we don't have plans my visiting dates are subject to change because i am going to go, or stay, where i am wanted! Since my rate and schedule are structured so that i can dedicate all my considerable erotic energies to just one suitor a day, by the time i arrive i am generally already booked. THANK YOU! The fun seriously never stops! I am looking forward to seeing old friends as well as meeting new ones. I have incredible stories to share, most of them so fantastic they would be hard to believe...if not for the pictures! So, if you haven't already met me please take a few moments to read the Terms of Engagement in the right hand column of this page and then complete my easy and discreet booking form just below. Thank you!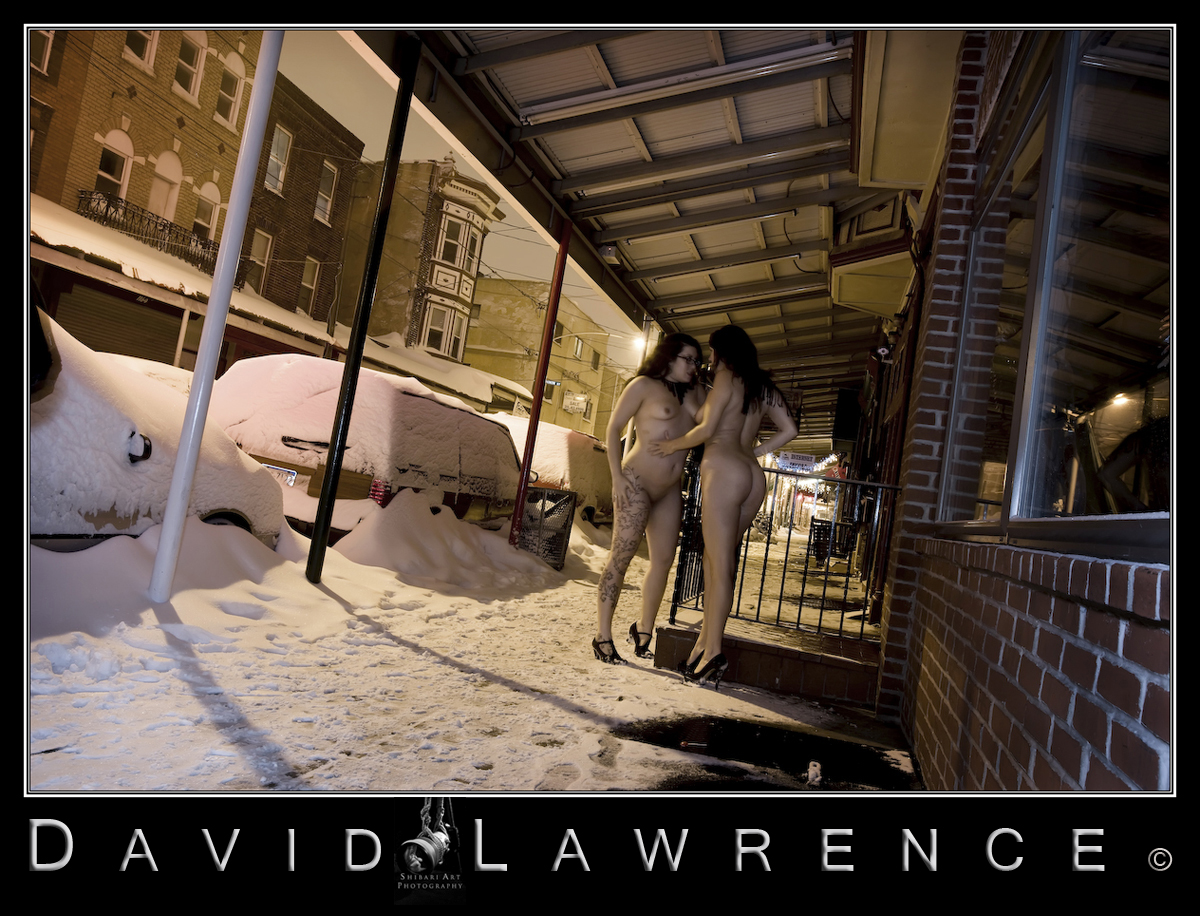 Naked in the SNOW!!
Kael and I had the unique and insane opportunity to shoot with David Lawrence, in a snow storm! This picture was taken on a Saturday in December in Philly at 11pm. At this time it had been snowing for about 21 hours and was 5-7 inches deep. This is in the Italian Market. The story behind how we got this pic is amazing. I am just lucky he didn't want us in bondage! Ask me when we are together!

I am game to try new and different things. Give me a call. You will be glad you did!




---
Exceptional Girl
Expect a poised and confident young woman to stroll into your life and take your breath away. There are many things to discover about this amazing creature. Her knowledge on subjects including erotica, kink, fetish, polyamory, human sexuality, human anatomy and physiology, biology, tantra, breathing, meditation, nutrition, nourishment of spirit, mind, and body through practice, and more, have culminated in this holistic beauty, whose very presence improves the aura of any surroundings.
TRUTHS
I am discrete. I require the same of you.
I am interested in everyone having the most wonderful experience possible.
I am many things, including a kinkysexual sexpert, exhibitionist, voyeur, hedonist, bisexual, squirter, submissive by nature, and Dominant by SKILL. I like to tease and tantalize you, body and mind. I fully expect that by the time we say good-bye you are already looking forward to our next encounter.
I am an extraordinarily erotic creature, I have NO DOUBT I will blow your mind. I do NOT appreciate being asked about what I will or will not do in advance. I would not make such decisions before being in your presence. I do exactly what I want. At all times, what I want, is to be enjoying life to the fullest. The very presence of a menu or to agree or not agree to any particular activity in advance is the only thing that would make this proposed encounter of ours into something someone might decide is an arrestable/prosecutable offense. Lets stay on the inside of the law, love. It is much more fun here. Telling me what you like is acceptable as long as it is done discreetly. I will not make plans in the first place if I am not very sure everyone will walk away feeling fantastic, and hopefully euphoric. If you just want to get raunchy on the phone, visit me on NiteFlirt.
I prefer to be intelligent and enchanting, for those occasions when a date or girlfriend is needed. I enjoy causing your friends to wonder just where you found me, having them ask if I might have a sister.
I am an 'amateur' porn actress, Goddess to my worshippers, professional model, cam girl on NiteFlirt and Chaturbate, and one of the most desirable model-escorts on the internet; available from my place in Austin to travel most anywhere you might need me.
Every picture you see here is accurate, and most are recent and sometimes only days old.. You may click on any of the thumbnail images to see them larger in a new window or cruise over to the Gallery page to see larger images by scrolling down, with no additional clicking required.
Be assured that I am meticulous with myself, polished and health conscious. I take great care of myself, body, skin, hair, mind, and heart. I admit to loving to turn heads wherever I go, but at the same time, I understand the need for discretion and would never think of dressing inappropriately. I will always look incredible.

My services include complete uninhibited companionship. I can be the engaging masseur that helps you relax, the girl next door, your girlfriend, the porn star of your dreams, a sensual courtesan to lovingly help you with your sexual exploration, or a dominating Goddess, or any combination, for those who desire the ultimate erotic encounter. I will take you to levels of ecstasy that you didn't know existed and believe me when I say I love to satisfy as well as be satisfied!
I hope you will happily anticipate my discreet arrival into your life. I know you will remember our experience together fondly, long after we've said good-bye. Thanks for stopping by and learning a little bit more about me and hopefully we will have the opportunity of experiencing something very special together soon. My only rule is,

you must leave your inhibitions elsewhere!
TERMS OF ENGAGEMENT
You are agreeing to these terms when you schedule with me.
Currently in: Houston
R a t e s

*Both preferred and recommended for your enjoyment.
*Minimum for 1st time appointments. Exceptions: RS2K, P411, DateCheck, TER Whitelist

---

By completing the
Booking Form
you agree to the
Terms of Engagement


---

Contact Information
Calls Accepted 10AM - 10PM
*Phone
(415) dani-dv8
(415) 326-4388
Email
danielle.lilly@gmail.com

*Calls from private or blocked numbers will not be answered. Please leave a name, number, and time that I can contact you.

---
I also screen with any or all of the following:



I am verified & accept Date-Check. Listed in Austin escorts
JOIN NOW